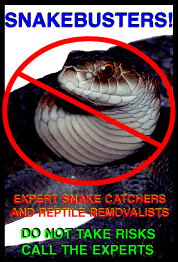 Snake Prevention, Venomous snake capture, without deadly "killer tongs", Snakebusters® Melbourne, Victoria, Australia.
PHONE: 0412 777 211 or
(03) 9812-3322.
(Government licenced snake prevention and capture)
See below for details. Melbourne, Victoria, Australia, all areas, 0412 777 211
For the capture, handling and removal of snake/s.

Click here for a free leaflet on the safe prevention of snake incursions to your property

Note it is illegal to kill snakes as a means of prevention. Note it is also dangerous for an inexperienced person to try to handle or kill a venomous snake for the purposes of prevention.
The best method for prevention of snakes is to remove habitat for the snakes. Prevention of snakes is best by means of removal of places to hide and prevention of growth of creeping vegetation. If snakes are encountered then it is best to let a professional snake handler who doesn't use illegal tongs to come and get the snake. Snakebusters are the 24 hour snake prevention experts!
Don't take risks - call snakebusters to remove snakes and for all your snake prevention advice!
Live shows, events, parties, school incursions - click here.
24 hours a day, all Melbourne suburbs and nearby
(See: Our terms and conditions).