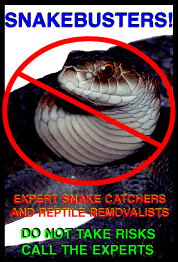 Snake Control, Venomous snake controllers, without "killer tongs", Snakebusters® Melbourne
PHONE: 0412 777 211
or
(03) 9812-3322.
(Government licenced snake control and controllers)
See below for details. Melbourne, Victoria, all areas, 0412 777 211
For the controlling, control and relocation of snake/s in Victoria, Australia.
(Note it is an offence to control or capture a snake if unlicenced or use tongs to control or injure snakes). Snakebusters are licenced to control snakes. We don't use "killer tongs" to control snakes!
Don't take risks - call snakebusters to capture your snake/s!
Live shows, events, parties, school incursions - click here.
24 hours a day, all Melbourne suburbs and nearby
(See: Our terms and conditions).