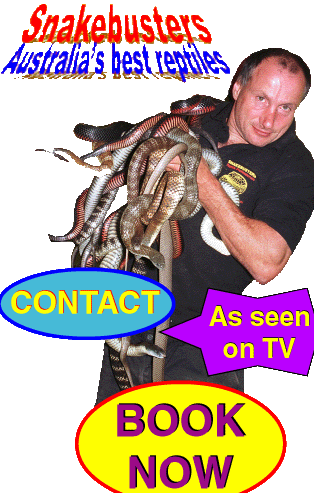 Snake Catcher, Venomous snake catcher without "killer tongs", Snakebusters® Melbourne
PHONE: 0412 777 211
or
(03) 9812-3322.
(All hours, Government licenced snake catcher and catching)
See below for details. Melbourne, Victoria, Australia, all areas.
0412 777 211
For a catcher of your unwanted snake or snakes.
(Note it is an offence for an unlicenced snake catcher to catch or kill a snake or use tongs as a catcher to catch or injure snakes). Snakebusters staff are licenced as a snake catcher and operate Melbourne-wide. Call an expert snake catcher rather than deal with an inexperienced snake catcher who may put themselves or others at risk. We don't use "killer tongs" to kill snakes!
Don't take risks - call an experienced snakebusters snake catcher!
Live shows, events, parties, school incursions - click here.
24 hours a day, all Melbourne suburbs and nearby
(See: Our terms and conditions).