Melbourne's Snakes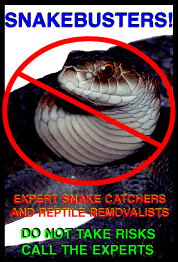 Photos and General Descriptions
Below are thumbnail images of the seven species of snake that occur in the Melbourne area.
The thumbnails can be clicked on for the larger photo and further information on each species from authoritative published sources.
Should anyone wish to use high-resolution images of these snakes for publication, they may do so by clicking on the link below which then has relevant download and publication information.
All species are venomous. All in excess of 60 cm are potentially dangerous to adults.
If in doubt, medical attention should be sought in the event of snakebite.

Melbourne's Snakes
(in descending order of venom toxicity per bite).
TIGER SNAKE Notechis scutatus (Peters, 1861)


EASTERN BROWN SNAKE Pseudonaja textilis (Dumeril, Bibron, and Dumeril, 1854)


COPPERHEAD Austrelaps superbus (Gunther, 1858)


BLACK SNAKE Pseudechis porphyriacus (Shaw, 1794)


SMALL EYED SNAKE Cryptophis nigrescens (Gunther, 1862)



LITTLE WHIP SNAKE Unechis flagellum (McCoy, 1878)


WHITE LIPPED SNAKE Drysdalia coronoides (Gunther, 1858)


For Hi-res. downloads of the above snake species for use in other publications.


For the most detailed paper on all Melbourne's snakes ever published.


Non-urgent email inquiries via the Snakebusters bookings page at:
http://www.snakebusters.com.au/sbsboo1.htm

Urgent inquiries phone:
Melbourne, Victoria, Australia:
(03) 9812 3322 or 0412 777 211