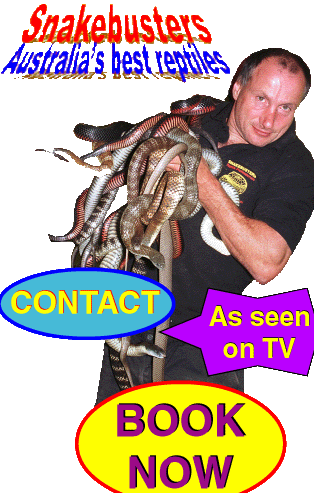 SCOUT GROUPS, GOLF CLUBS, POLICE AND OTHER SPECIAL INTEREST GROUPS
Golf clubs (one page flyer).


Outdoor workers, gardeners, roadworkers, linesmen, etc (one page flyer).


Scout Groups (one page flyer).


Live reptile shows are always popular with all kinds of people and none more so than Raymond Hoser's snakebusters shows.
No one else has the expertise and ability to impart information like the Snakeman Raymond Hoser and his team. Audiences are captivated and people will be stunned at how he can have the undivided attention of a full group for the hour or so his interactive show goes on.
Several basic lecture plans are used and others can be formulated to suit the special needs of the group, their study curriculum or whatever.
For example scout groups can be given a dangerous snakes/snake safety talk with specific emphasis on what they are likely to encounter in areas they camp. Likewise for golf-club patrons who can have their talk tailored to fit the very species of snake found in their own golf, including eye-to-eye contact with the snakes themselves.
Science students can be given a talk with hands-on emphasis on the physiology and biology of the reptiles themselves, while arts students can be shown some of the amazing variation and diversity in reptiles.
Audiences are encouraged to touch and handle innocuous reptiles and for many this is a first time experience.
As for other lectures and shows, parents and adults are also recommended to attend and while our preferred group size is about 30, there is some latitude here.
All school and scout groups receive free a copy of the "Hoser Wildlife Collection" CD-Rom which is valued at $55 and is the reference of choice in terms of Australian Reptiles and frogs and Endangered Animals of Australia.
The information on this CD-rom is vast and it enables a continuation of the reptile experience long after Raymond Hoser and his show have left.
Pricing is from $300 per session (2014 rates) and less per session if several are booked at once.
Further details:
Phone (within Australia)
(03) 9812-3322 or 0412 777 211.
Warning: Children exposed to snakebusters snake/reptile shows may badger their parents for a pet python or lizard!
Snakebusters website "front page" entry.


Snakebusters website gateway links to all other Snakebusters webpages.


Snakebusters booking and contact page.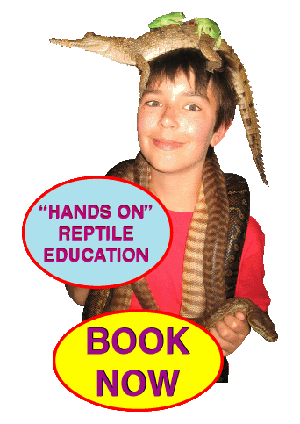 Non-urgent email inquiries:
Via our bookings page.

For urgent inquiries please phone:
(Melbourne, Victoria, Australia):
(03) 9812 3322 or 0412 777 211