A QUALITY FREE GIFT WITH EVERY SNAKEBUSTERS SCHOOL AND PARTY BOOKINGWELCOME TO THE HOSER WILDLIFE BOOKS COLLECTION CD-ROM
FEATURING TWO OF AUSTRALIA'S MOST SOUGHT AFTER BOOKS ON WILDLIFE, AS WELL AS OVER 150 SCIENTIFIC PAPERS, ARTICLES AND MORE!

OTHERWISE SOLD ONLINE AT: AT THE SPECIAL PRICE - $55 (AUSTRALIAN) INCLUDING POSTAGE (=ABOUT US$22.50)
BUT FREE WITH EVERY SNAKEBUSTERS SCHOOL OR PARTY BOOKING.
FIRST RELEASED IN JANUARY 2002 (AND SINCE UPGRADED)
To buy in hard copy what is on the CD-rom (at cover prices) would cost you several thousand dollars. Much is now "out of print" and otherwise unavailable.
Snakebusters website "front page" entry.


Snakebusters website gateway links to all other Snakebusters webpages.


Snakebusters booking and contact page.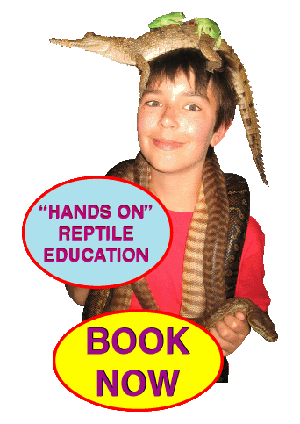 Non-urgent email inquiries:
Via the incursions bookings page.

For urgent inquiries please phone: (Melbourne, Victoria, Australia):
(03) 9812 3322 or 0412 777 211