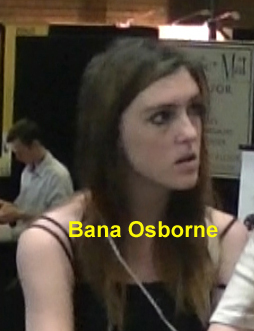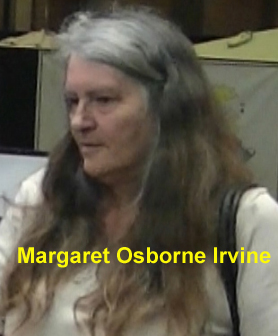 Snakeman bites back two criminals, thieves and internet trolls.
Media release dated 17 September 2013
This month Australia's snake man, Raymond Hoser took the law into his own hands and successfully got two more court intervention orders against two animal hating criminals of the lowest form. They had been attacking his wildlife display business "Snakebusters" and his two young children by making threatening phone calls to them at strange hours.
The two offenders were Margaret Irvine Osborne and adult daughter Bana Osborne, both of Morwell, Victoria. They are shown in the the security video image to the left, taken late last year, when they attacked an educational display at Morwell. The pair of criminals are now banned from attending any further displays.

Both women had been actively engaged in running or posting on highly illegal hate sites on the internet against Snakebusters for the express purpose of promoting criminal attacks on Hoser, his staff, business and family, including his two young daughters. The two women had also engaged in criminal stalking and attacks on the Hoser family and business as well as criminal damage to property.

The Osborne-Irvines are close friends and associates of police protected criminals Michael Alexander and Sean McCarthy, both of whom run their own unsafe wildlife display businesses. Both McCarthy and Alexander, routinely display venomous snakes in breach of the Victorian OH and S Act, going so far as to post images of their illegal activities on the internet and evade prosecution due to an improper relationship with DSE enforcement staff.

Sean McCarthy has also publicly boasted of his own repeated breaches of the wildife laws, for which he has gained immunity from prosecution, due to a corrupt and improper relationship with DSE (now DEPI) enforcement staff. These same government officers often act as a private army for McCarthy to improperly raid and harass people he doesn't like, including the Snake Man and even McCarthy's own former employees. Recently and at the behest of McCarthy and associates, DSE enforcement officers, Glen Sharp, Emily Gibson and nine others did an illegal armed raid on the Snakeman's business and home and then to justify their thuggery, they laid 11 bogus criminal charges against the snake man. Without apology or compensation, these 11 bogus charges were later dropped. However during the armed raid, Hoser's two young daughters were subjected to abuse and tormented and their posessions trashed. Snakes at the Snakebusters facility were either killed outright or seriously injured and Hoser's, cages, computer equipment, files, cars and other possessions were also attacked and in some cases damaged beyond repair.

Sean McCarthy's business "Snakehandler", a strange name, considering his preferred snake handling method is the use of barbaric metal tongs, was dropped from the Melbourne Show after repeated complaints of animal cruelty at the event emerged, the basis of the claims being his use of metal tongs, which break the bones of snakes when used to pick them up.

McCarthy's business has also had a number of serious safety incidents, with cases involving staff having to be rushed to hospital for venomous snakebites. He has also evaded prosecution over these breaches of safety laws.

With the active incitement by McCarthy and along with another career criminal, his close friend Andrew DeGroot, the two Osborne women were engaged in online and offline stalking of Hoser, his family, including two young daughters and his staff and repeated posting of false and defamatory material on Facebook and elsewhere.

After Hoser took out an intervention order against McCarthy friend Andrew DeGroot, DeGroot (yet another police protected criminal) breached the order by getting Margaret Irvine Osborne and Bana Osborne to attend a Snakebusters display at Morwell, with the intent to steal wildlife, commit criminal damage and make false complaints to the organisers. Unfortunately for them, their actions were caught on security cameras and they were stopped in their tracks by the vigilant Snakebusters staff at the time. Taking out a court order against criminals is time consuming and diverts Snakebusters from their core conservation activities. Therefore it is seen as a last resort tactic only, and at the time of these attacks, Hoser chose to let things ride and take no action against the protected criminals, hoping that they may cease and desist on their own accord. But this did not happen.

In mid 2013, Margaret Irvine Osborne increased her criminal stalking of Snakebusters staff to assist the rival unsafe wildlife demonstrators, who continued to run a series of hate sites on facebook for the express purpose of attacking Snakebusters and the Hoser family, including the snake man's two young daughters. In mid 2013, Margaret Irvine Osborne made a number of new attacks on Hoser's staff, including false complaints to government authorities to initiate armed raids on Snakebusters staff. Besides this, she was continuing to phone and harass established Snakebusters clients and make crank phone calls to the Hoser household in the middle of the night, causing the Hoser family to turn the phones off at night. This is a very serious matter as Snakebusters are the only 24/7 emergency snake capture service in Melbourne and the actions of Margaret Irvine Osborne was now putting lives at risk. The risk is due to the fact that all native Melbourne snakes are venomous and if the Snake Man Raymond Hoser can't come and remove them immediately when found in houses at night, residents are at risk of a fatal bite. When it was decided to take out an intervention order against both women, it emerged that they were keeping pet reptiles without valid permits. However because both were associated with another protected criminal named Sean McCarthy, the DSE did not prosecute them. The usual penalty for their offences are sizeable fines and/or jail.

The two women are now subject to a court order which prevents them from posting further hate material on the internet and attending Snakebusters displays for the express purpose of causing public disturbances. The two women are also probited by law from approaching or attacking the two Hoser daughters in any way. Both Hoser's young kids have been severely traumatised by the ongoing attacks iniated by McCarthy and Alexander and those they have induced to act on their behalf.

This week the Snake Man, Raymond Hoser said, "It is outrageous that these protected criminals can be allowed to put lives at risk and even more outrageous that I should have to be taking out orders against them, when the Victoria Police and the DSE should be doing their job, enforcing the wildlife and crimes acts against serial offenders they are protecting and they should be putting these criminals behind bars."

Also of relevance is that in mid 2013, McCarthy, Alexander and close associates have engaged in ongoing and repeated acts of use and infringement of Hoser's registered and protected trademarks, Snakeman®, Snakebusters®, Reptile Parties®, Australia's best reptiles®, Hold the animals®, Hands on reptiles® and others to actively steal established Snakebusters clients and divert them to use their own highly unsafe and inferior business enterprises. They key trademark for attack were the registered "Reptile parties" trademarks of Hoser, being used as a term to divert clients to the infringing websites, which then utilized the other registered trademarks to engage in the highly illegal criminal act of "misleading and deceptive conduct". In early August 2013, Hoser was alerted to infringing material on Facebook, that had been posted by McCarthy using a method called "blocking" designed to ensure Hoser wouldn't be able to see the infringing material, but everyone else, including "Google" would, thereby diverting Hoser's clients to himself. Hoser then had the material removed by Facebook themselves (who actually respect the law and comply with it). Upset that Hoser had outed McCarthy for his ongoing criminal misconduct, McCarthy unlawfully sent Hoser a number of emails threatening to have Hoser raided by police if he did not let McCarthy restore his illegal online content, with the added threat not to repost that material (making further illegal threats). Of course it is astounding that a career police protected criminal is able to have law abiding people such as the Snakeman Raymond Hoser raided by police at their instigation, while being totally immune from police charges for their own criminal activities. That McCarthy knew he had been acting illegally at all times and misusing the Hoser trademarks was seen when in early August (at the time of the e-mail exchange), he posted on a separate Facebook hate site he controlled the following post, "We have just been informed by an IP lawyer that the term Reptile Parties is trademarked and cannot be used!" Notwithstanding this statement, and an acknowledgement of the post by Michael Alexander, Michael Alexander, was as of 17 September 2013, still actively and remorselessly stealing Snakebusters clients by engaging in SEO for his own website to ensure it came up first in Google searches for the Hoser registered trademark "Reptile parties". The criminality of Alexander's actions were heightened by the liberal use of other Hoser registered trademarks on his own website (visible text), and via metatags in a bid to fool and confuse innocent members of the public. Alexander had also been sent several Cease and Desist letters from Hoser and his lawyers over the preceding two years. For those interested in the contents of the email exchange between McCarthy and Hoser in August 2013, following the removal of his trademark infringing material from Facebook, you can read the exchange here.

Further relevant information in terms Margaret Irvine Osborne and Bana Osborne, noting their direct friendship with and actions on behalf of the criminal, Andrew DeGroot is given below. This is essentially as reported in an earlier release from 2012.
Since 2006, some newly licenced imitators of Hoser's hands-on reptile shows have been engaged in a war against Snakebusters with a view to tarnishing the company's impeccable reputation, stealing clients and having Snakebusters shut down for the same purpose.
Included have been numerous false allegations against Hoser and his staff, including complaints to regulators, serious assaults on Snakebusters staff working at public events, numerous attempted thefts of reptiles, crank phone calls at all hours, attacks on property, including slashing a tyre, smashing a car windscreen, destruction of signage, attacking company infrastructure and more.
The attacks have since end 2008 also included bootlegging Snakebusters trademarks to dupe clients into booking with other firms, by using extreme "black hat" "Search Engine Optimization" (SEO) to beat Snakebusters on "Google" search results and then to trick potential clients that they were associated with Snakebusters.
In May 2011 the snake man closed down over 800 Youtube sites alone being used for SEO using Hoser's long registered trademarks "snake man" and "snakeman" to unlawfully divert clients to two rival business's websites (Qld-based Tony Harrison and Sean McCarthy in Victoria) instead of Snakebusters. Details of this and associated acts of illegal registered trademark use and infringement are here.
Other attacks have included thousands of hate posts on Facebook and even the creation of several Facebook "hate pages" for the express purpose of inciting and planning criminal attacks on Snakebusters at public events and displays. McCarthy and others have also made false complaints leading to Hoser's young daughters being repeatedly arrested at gunpoint and subject to extreme trauma and stress.
With police and DSE improperly failing to prosecute a number of these people for criminal acts and breaches of the Victorian Wildlife Act, due in part to the improper relationship between the parties, the snakeman Ray Hoser took matters into his own hands and now has three separate court intervention orders in place (over and above the two detailed above).
All the offenders made countless posts on the internet making false and defamatory statements against the snake man and Snakebusters using multiple and usually fake ID's.
One of the offenders, Danny Wynn of 78 Olympic Avenue, Shepparton, using multiple ID's posted hundreds of hate posts on Facebook pages and even created Youtube videos telling people to attack Hoser and his staff. He even registered a web domain in another displayer's business name using a fake ABN.
Another offender, Benny Moylan, of Geelong, (currently in Finley, NSW) did likewise, but went further and contacted Hoser's clients telling them to book instead with his friend, Sean McCarthy of company "Snakehandler".
That firm has had two serious venomous snakebite incidents involving emergency trips to hospital, but has not been prosecuted by the DSE over either incident or for other extremely serious breaches of licence conditions that have put members of the public at risk of fatal snakebites.
Moylan also attacked the Snakebusters Facebook pages making hundreds of posts abusing Snakebusters customers using the worst possible language.
Moylan created a number of fake facebook ID's including some masquerading as the Snake Man Raymond Hoser and then duping others to "Friend" or "like" him. While a number were shut down by Hoser with some difficulty after he became aware of them, Moylan continues to run multiple accounts on facebook.
In other words, a warning is issued to the effect that the person you think you may be speaking to on facebook, may not be whom you think it is!
Interestingly, while Moylan has in the past admitted to this conduct of creating numerous false facebook accounts (see for example his wall post dated 14 July 2011, 8.27 PM) for the purposes of attacking Hoser's reputation, as late as last week, the false claim was made that Hoser was engaged in this practice for the purpose of trolling. This false claim was made widely by the trolls, spread rapidly and ended up being posted on numerous websites including Facebook pages of Mark O'Shea and Al Coritz (two men who attack snakes with metal tongs, which leave them injured to die a slow painful death), and internet forums "captive-bred-reptiles" and "Pilbara Pythons".
Most of the fake facebook accounts usually also illegally used Hoser's photos, which was usually the basis by which Hoser was able to close them down.
In other words a warning should be made in terms of potential facebook ID's not being whom they appear to be.
A third offender, Andrew De Groot with his wife Elisa De Groot of 13 Kelly Court, Pakenham, Victoria, 3810, engaged in criminal stalking by posting in excess of 1,500 hate posts on the Snakebusters Facebook page in about a week, in spite of repeated earlier "cease and desist" requests. After these later posts were all deleted (without comment or reply) De Groot went further and sent threatening e-mails to Hoser.
When these were ignored, Hoser was phoned and yet more threats were made.
Andrew DeGroot also promoted a hate website he created called "Raymond Hoser the dumbarse snakeman" on Facebook.
The De Groots, who also posted hate messages using various assumed names had previously been apprehended by Snakebusters staff at events unsuccessfully attempting to steal reptiles, commit criminal damage to property, unlawfully creating disturbances and illegally making false complaints using false names.
As recently as this month Andrew De Groot sent Hoser an e-mail making further threats and saying he (Hoser) would never find him as he wasn't in the phone book.
However Hoser found the De Groots listed in the electoral roll, which cross-matched a one-year-old newspaper clipping on the web (from the Pakenham Gazette dated 13 July 2011) and commenced legal proceedings against them. De Groot is associated with Michael Alexander of the rival company "Black Snake Productions" and Sean McCarthy, calling himself "Snakehandler", both of whom perform unsafe venomous snake displays in direct breach of the OH and S Act and corruptly protected from prosecution.
Now the De Groots and the other relevant criminals have been legally barred from attacking Hoser, his family, Snakebusters, their staff and their reptiles.
The legal protection of the reptiles are particularly important as the DSE and the Victoria Police have a policy of not prosecuting people who steal reptiles from Snakebusters but will with all their resources prosecute Snakebusters for having their reptiles stolen, if and when this happens!
The Snakeman Raymond Hoser today said, "Now we can get back to what we do best and that is what are independently rated the best educational reptile displays in Melbourne ... hopefully without further unlawful attacks and harassment."
Hoser further said "It is outrageous that we have not had the support and protection from government to date in what is in fact the most successful wildlife education business in Australia"
Snakebusters are also the only 24/7 emergency snake removal company in Melbourne. The non-stop crank calls from the offenders in the middle of the night had forced Snakebusters to shut down the phones overnight putting people potentially at risk of fatal snakebites.
Hoser said "Hopefully the offenders will now comply with the law and stop putting lives at risk".
The details of the three trolls and their attacks are posted here as a deterrent to others who may be incited by rival businesses to launch unlawful attacks on Snakebusters.
Raymond Hoser says, "We do all things by the letter of the law and only took out these orders as a last resort to protect myself, my family, my children, my reptiles, my staff and our property. In each case, the offenders were repeatedly and politely told to cease and desist, and that would have ended things there and then, but they refused. The offenders are named and shamed here as a direct warning to others that if you unlawfully attack our wildlife education business, or the family of the snake man you may also end up being named and shamed publicly."
Raymond Hoser is Australia's leading herpetologist and a conservation icon. He has authored nine definitive books, including the "Bible's" Australian Reptiles and Frogs published in 1989, and Endangered Animals and Australia published in 1991. He's published hundreds of ground-breaking scientific papers, detailing world first captive breedings of rare species, artificial insemination of snakes and lizards, papers on reptile medicine and surgery and as a taxonomist named more genera and species of snake than anyone else born in the last 130 years, including species from all continents of the world except Antarctica. His works have been cited as authorative by more than a million other authors. His education business Snakebusters, are known as Australia's best reptiles, because they have the highest standards, including unmatched expertise and and unrivalled safety record, being more than thirty years in the education business and perfect safety record, notwithstanding that Snakebusters do more venomous snake shows and displays than all other competing businesses combined, noting that as a group, the rest have had countless safety incidents in terms of near fatal and fatal snakebites. Snakebusters are also the only Australian snake handlers in Australia with the expertise to have vet certified surgically devenomized snakes, which means a watertight guarantee of safety at all shows.
Further details can be found by calling Snakebusters, via the contact details on the website.
Videos of the trolls in action can be found on the links below:
The videos were placed here as a result of the above named criminals breaching their interim intervention orders by petitioning Youtube to delete them from the "snakemanaustralia" Youtube channel. Due to the public interest importance of the videos detailing the illegal activities of these criminals they are placed here and as a further deterrent to others who may consider illegal attacks. Hopefully and provided these criminals comply with the orders made against them today, then these criminals will never have to be the subject of an internet posting or media release of any sort by us at Snakebusters ever again!
Return to the Smuggled.com website
Return to the Snakebusters Reptile shows
Return to the Snake Man
Return to Raymond Hoser
It's Official – Snakebusters are Australia's best reptiles.