Hold the animals®, handle the animals®, hands on®, hands on reptiles®, reptile shows® and reptile party® displays. Snakebusters® Reptile Parties® are the only hands on reptiles®.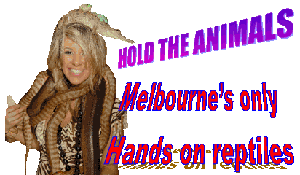 Hands on® reptile shows with Snakebusters to continue ...

An attempt by "Zoos Victoria", the government department that owns "Zoos Victoria" and all other wildlife demonstrators in Victoria to ban hands on wildlife shows has failed! A nine year battle fought by Snakeman Raymond Hoser and his businesses Snakebusters, Melbourne Reptile Shows and Reptile Parties has been won and the losers have now been ordered by a court to pay Hoser's costs and damages. Hoser and his hugely successful wildlife education business was unlawfully shut down at gunpoint twice in 2011 and 2012, and Hoser had to face no less than 36 fabricated criminal charges, all of which he won. Hands on reptile shows as done exclusively by Snakebusters and associated businesses will therefore continue. A more detailed summary of events is below.
In VCAT proceedings at end 2008, the Victorian government licencing authority (called "DSE") and "Zoo's Victoria" argued against Snakebusters allowing "hands on" with reptiles at their demonstrations.  DSE stated repeatedly that Snakebusters were the only demonstrators who allow the public to hold their reptiles at shows and events and that all other traveling reptile and wildlife demonstrators either did boring "static displays" or effectively confined themselves to "show and tell". Rarely one of the imitators may allow members of the public a fleeting touch of an animal, while being held in a firm grip by the demonstrator.  They repeatedly pointed out that Snakebusters are the only demonstrators in Victoria that actually allows people to hold reptiles and furthermore allows many people to do so at once. All other wildlife displayers also gave evidence against the Snakeman and Snakebusters alleging that "hands on" reptile shows were a public hazard and should be banned.
But in the same proceedings, Zoo's Victoria" and, DSE repeatedly claimed Snakebusters had an "unfair advantage" with their "hands on" (and exclusive posession of "devenomized snakes"), as compared to their own business and imitators of Snakebusters which effectively confines the public to viewing animals in cages and without "hands on" (and their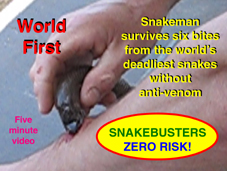 staff regularly getting life-threatening snake bites - a risk Snakebusters didn't have due to their devenomized snakes).

The major claim was that Snakebusters, by being so hugely successful, was costing the Melbourne Zoo business potential customers and that was also making "Zoo's Victoria" lose money. This they said was costing Victorian taxpayers who in effect were financially supporting the zoos multi-million dollar annual losses.
Snakebusters and thousands of supporting petitioners, including teachers, parents and so on, argued that "Zoos Victoria" and other wildlife demonstrators should raise their standards to meet Snakebusters, rather than attempting to force Snakebusters to lower their standards to help competitors gain market share.
Corrupt VCAT Commissioner Anne Coghlan agreed with the government submissions against "Hands on" by Snakebusters, remarking that if she had it her way, all snakes would be killed on sight!  She further made it clear that she wanted to use VCAT to support "Zoos Victoria" in order to reduce the "competitive advantages" of Snakebusters to help "Zoos Victoria" in particular improve their commercial position.  Coghlan also stated that if she could, she'd ban all wildlife demonstrations, the snakeman's Reptile Parties® and all private ownership of reptiles, thereby confining all public viewing of wildlife to the three government-owned zoos to give "Zoos Victoria" an effective monopoly on the wildlife "business" in Victoria and a stronger market position.  However she was unable to make an order stopping "hands on", because this is expressly allowed in the preamble to the Victorian Wildlife Act, which is the law governing private wildlife ownership and wildlife shows and demonstrations in Victoria, including Snakebusters.
In response to this, the DSE later charged the Snakeman with 36 contrived criminal offences in the period 2010-2015. They alleged that by letting people hold the animals at his educational displays Raymond Hoser and his team were putting lives at risk. Those charges and the ridiculous claims made to support them failed in spite of many millions of dollars wasted in the prosecution. The Victorian Government and the DSE must now pay the Snakeman's costs, damages, compensation and restitution, as stated in a court judgement dated 5 September 2015.

There is now talk about amending the Victorian Wildlife Act in 2016 to ban any private ownership of reptiles, "hands on" wildlife displays by the Snakeman and Snakebusters and so on, but this has not yet happened, and as in previous years, Snakebusters will lead the resistance to any such anti wildlife conservation actions.
Hence for the time being and contrary to false claims circulated by Snakebusters rivals, ALL the hands on® by Snakebusters at our reptile shows, events, educational school incursions, kid's parties and the like remains totally legal. By the way, contrary to a repeated false claim by a rival, Snakebusters don't hand out (devenomized) Tiger Snakes to kids at parties! The claim was made by an imexperienced imitator (apparantly) unable to tell the difference between a Sand Python and a Tiger Snake. Funnily enough, VCAT Commissioner Anne Coghlan also had the misguided belief that pythons were dangerously venomous snakes as well!
Snakebusters® remain the only hands on reptile show in Australia and because hands on reptiles shows that let people hold animals have been opposed by all others in the wildlife business space, the snakeman was able to register the relevant trademarks, namely, hands on®, hold the animals®, handle the animals®, hands on reptiles® and variants. The snakeman® is supported by tens of thousands of school teachers, parents and others who want their kids, friends and families to have the best hands on® educational wildlife shows and education possible. However more recently (2016) a number of potentially unsafe imitators have been trying to steal the snaman's clients in order to support their second-rate enterprises by advertising "hands on" reptile shows or wildlife displays that invariably are not. In other words, if looking for the only hands on reptile shows in Australia, make sure you get the Snake Man® and his brands and no other. These include under the trading names Snakebusters®, Reptile Party®, Reptile parties®, Melbourne reptile shows® and of course the snake man®. Beware of imposters!
And if you find an imitator using our registered trademarks to mislead others and illegally divert our clients, let us know and we'll stop them!
Further links
Please scroll through the list before making a selection
General notes - all reptile parties, displays, etc.
If interested in these please read this link first.


Snakebusters main website entry, shows, consulting, snake catching, venomous/snake advanced keeping courses, photos, media, filming, etc.


Non-urgent email inquiries via our bookings page.


Bookings and urgent inquiries phone:
Melbourne, Victoria, Australia:
(03) 9812 3322 or 0412 777 211
Hands on®, Handle the reptiles, hands on reptile shows, handle the wildlife at kid's parties, handle the animals at children's birthday parties in Melbourne, Victoria, Australia, Hold the wildlife at school incursions, hold the reptiles at educational shows, hold the animals at reptile awareness demonstrations, snake awareness lectures with hands on in Melbourne, Victoria, Australia, hands on corporate events with reptiles in Melbourne, Victoria.
Snakebusters are Australia's most sought after reptile demonstrators and kids reptile party and parties, with most hands on, most audience interaction, best educational outcomes for incursions and with the best reptiles displayed.
© 2016, Snakebusters. All rights reserved.
Snakebusters®, hands on®, snakeman®, hold the animals®, Australia's best reptiles®, variants and our other trading phrases are all registered trademarks in several categories and jurisdictions. Unauthorised use, misuse, dilution or other activities relating to the trademarks is prohibited, including in Melbourne, Victoria, Australia or anywhere else where we exercise trademark rights and intellectual property rights, including for:
Hands on reptile shows, hands on kid's parties, hands on children's birthday parties in Melbourne, Victoria, Australia, Hands on school incursions, hands on educational shows, hands on reptile awareness demonstrations, snake awareness lectures with hands on in Melbourne, Victoria, Australia, hands on corporate events with reptiles in Melbourne, Victoria.