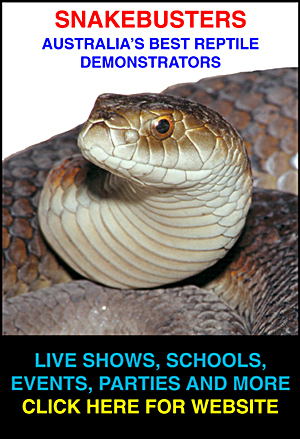 MEDIA RELEASE
Another snake handler bitten in Victoria –
No connection with SNAKEBUSTERS.
Release dated 13 June 2008
News of another novice snake handler getting a near fatal bite from a Death Adder does not come as a surprise.
The victim, John Deutscher, is not (as reported in several places) in any way connected with Snakebusters and has a long history of a cavalier attitude to reptiles and safety and has had by his own admissions in the media today, had several serious bites.
This poor attitude to safety and a culpable disregard for the taxpayer with his regular trips to hospitals at public expense are among the many reasons we rejected his unsolicited applications to work for us.
It is also unfortunate that the licensing authority, DSE have chosen not to take action against a number of rogue operators identified by us in recent years, who besides risking safety, have repeatedly lied to potential customers and broken the law to gain business and teach people information that is simply not true and in itself hazardous.
For the record, Snakebusters only employ staff of the highest expertise and caliber and this week's snakebite safety breach by a newly licenced snake handler is a timely reminder for all in terms of reptile safety.
In the last twelve months alone several so-called snake handlers from several newly licenced traveling reptile demonstrating outfits have had to be rushed to hospital as a result of snakebites from mishandling (often with back-breaking metal tongs).  One man, James Bear died from a bite from his pet snake.
Snakebusters are alone in our industry in having proven expertise with reptiles spanning decades and a perfect safety record.
Only Snakebusters use vet certified surgically devenomized (venomoid) snakes.
We are the only company with these snakes.
Snakebusters are the only company in Australia who can give a watertight safety guarantee for deadly snake shows.
Under section 32 of the Victorian 2004 OH and S Act, Snakebusters are the only company legally allowed to bring venomous species into public.
Persons considering live reptile demonstrations for events, shows, shopping malls and similar should take this week's near fatal snakebite of a snake handler associated with a rival demonstrating business as a warning against dealing with newly licenced outfits that may put either themselves or their customers at risk or break the law to demonstrate venomous species in public places, including schools, malls or events.
Organizers who may have booked a non-Snakebusters presentation should also immediately rule out the use of venomous snakes on the basis of risk to both handler and customers before another serious accident or death happens. 
Today, Snakebusters director Raymond Hoser, said "It's after events like today's near fatal bite, that people appreciate the quality, expertise and reliability of Snakebusters. … people trust Snakebusters and for good reason."
Hoser also said "Both existing and new customers realize that it simply isn't worth taking risks with novices who both lack expertise with reptiles and also take risks with public safety through not using snakes that are devenomized."
Today Raymond Hoser said "The flagrant disregard of basic safety procedures by a bunch of ratbags have put the rights of thousands of legitimate private reptile keepers at risk".
For the record, in decades of catching and handling thousands of the world's deadliest snakes, leading Australian Snakeman Raymond Hoser has never been rushed to hospital for snakebite or had a drop of antivenom. 

Further details - Snakebusters: 0412 777 211
Non-urgent email inquiries via the Snakebusters bookings page at:
http://www.snakebusters.com.au/sbsboo1.htm

Urgent inquiries phone:
Melbourne, Victoria, Australia:
(03) 9812 3322 or 0412 777 211