Australasian Journal of Herpetology.
ISSN 1836-5698 (Print)
ISSN 1836-5779 (Online)
<![if !supportEmptyParas]> <![endif]>
Identical print and online versions are published simultaneously (see link here for full details).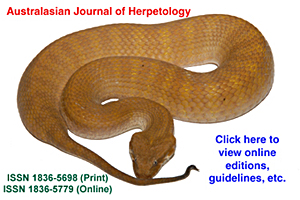 <![if !supportEmptyParas]> <![endif]>
Print copies are distributed to major libraries and institutions that satisfy deposit requirements of the ICZN, ANL and similar bodies. Both print (first print run) and online are identical including use of color (if any), unless indicated otherwise in both editions (same text).  Reprints of the print version are usually done in 100 or 50 copy print runs on paper that satisfies permanency requirements of governing bodies and are printed by external printers in order to satisfy verification of actual print runs.

For print, online and copies and reprints of the print journal, the text, illustrations, pagination and the like remain identical.  As a rule, there are no corrections made to any version after publication, including for reprints. Online papers are as a rule uploaded one month (plus or minus up to a week) after the publication of (receipt of) and distribution of hard copies to subscribers, statutory bodies and the like, thereby ensuring dated receipts for hard copies before the physical publication of online copies. 
<![if !supportEmptyParas]> <![endif]>
At first we supplied originals of print versions free of charge. However demand for some early issues ran to thousands of copies within weeks of publication and we could not afford to continue to supply demand at our cost. We now supply copies of all issues at "cost" to cover printing and postage. The rate is $10 Australian (plus charges to us through banks and the like), per 10 pages of journal published (or part thereof for longer papers), per paper ordered. This includes the cost for the paper and postage anywhere.
Persons wishing to order hard copies of the journal should click here.
Online versions may be downloaded from the relevant web address free of charge.  We generally do not guarantee availability of copies of the print version for distribution more than 6 months after the publication date as indicated in each issue and reserve the right to run out of copies sooner in the event a given issue is subjected to particularly high demand (as has happened for some earlier issues).
<![if !supportEmptyParas]> <![endif]>
Conditions of use/subscription:
<![if !supportLineBreakNewLine]>
<![endif]>
No copies of this journal are to be sold or otherwise traded for profit without the express written permission of the editor and publisher.
Our preferred means of general widespread distribution is by the online version via simple download.
Any person is allowed to download free of charge copies of the journal from our website/s.
No copies of the journal may be hosted on websites other than those authorized in writing by the editor or publisher.
We welcome third party websites directing links to the URL's for this journal.
Copies of the journal as a permanent record may be reproduced and disseminated free of charge, including between scientists and other interested persons, including as pdf files downloaded from our server, hard copies and copies of either.
Material may be used from the journal as part of legitimate research, including quotations so long as the original source is properly credited, there is no secondary financial gain and the material is quoted fairly, in context and not misrepresented. 
Persons are allowed to copy, e-mail or otherwise distribute copies of the journal for legitimate research purposes, notwithstanding the above.
We reserve all legal rights in all domains and jurisdictions. If in doubt, contact the publisher. 
The copyright of all intellectual property is however retained and protected and will be subject to legal action if misused. 
If in doubt, contact the editor or publisher.
<![if !supportEmptyParas]> <![endif]>
Published by Kotabi Pty Ltd<![if !vml]>
<![endif]>
PO Box 599
Doncaster, Victoria, 3108.
Australia.
E-mail: Please use the e-mail address at "Snakebusters" bookings webpage page at: http://www.snakebusters.com.au/sbsboo1.htm
Please note e-mails not answered should be deemed "not sent" or "not received".
<![if !supportEmptyParas]> <![endif]>
Published issues that are online - Click here.
<![if !supportEmptyParas]> <![endif]>
Return to the Australasian Journal of Herpetology front page.