Australasian Journal of Herpetology.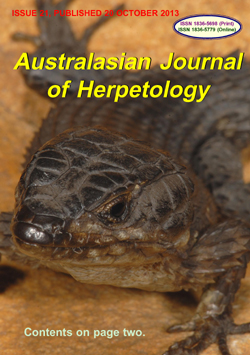 ISSN 1836-5698 (Print),
ISSN 1836-5779 (Online).
<![if !supportEmptyParas]> <![endif]>
Ordering hard copies.
<![if !supportEmptyParas]> <![endif]>
Issues 8 and onwards all cost $70 each to order as hard copy, including postage anywhere. All are 64 pages or more. They are printed with colour and B/W and on quality gloss paper. To order these issues see below.
Earlier issues are sold (including postage) at the following rate: Issue 7 is $20, Issue 6 is $30, Issue 5 is $30, Issue 4 is $30, Issue 3 is $10, Issue 2 is $40, Issue 1 is $30. Original prints of issues 1-7 were printed on 135 g/m2 A4 sized glossy paper, bound by a single oversized staple, which holds the publication together well. Later publications vary in accordance with demands of space, cost and the like and may or may not have a single paper per issue. Where more than one paper is within a single issue, they will be of similar subject matter. Online versions may be broken up to yield one paper per download or perhaps the entire issue, depending on what is deemed simplest for the purposes of upload and download (by others).
Because this journal's publication is both irregular by date and size, each issue will have a different cost and must as a rule be issued post publication, except by those with pre-existing standing orders for which pre-payment via credit card is arranged and approved.
While we do not guarantee availability of copies of the print version for distribution more than 6 months after the publication date as indicated in each issue (reserving rights to run out of copies sooner if demand is unexpectedly high), it is our effort to maintain availability beyond this.  In the event that we receive an order we cannot fill, money will be refunded either in total or in part if there is a multiple issue order which can be partially filled.
<![if !supportEmptyParas]> <![endif]>
The base cost of each issue is determined by page number. 
The cost is $10 (Australian) per 10 pages of issue or part thereof and this includes postage anywhere.
Issues cannot be combined to give a total page count. 
Pricing is "per issue", with totals by issues added to make a total order.
To calculate the cost per issue, refer to the online versions as the hard copies are identical.
After the base cost is arrived at, then add the relevant "processing fee" to arrive at a grand total.
The "processing fee" is essentially that charged by the banks to us.
<![if !supportLineBreakNewLine]>
<![endif]>
Most people will find the cheapest and easiest way to order is to add $10 to the cost (per $100 or part thereof) and use their credit card (Visa/Diners/Amex only) and using the form below.
If ordering by transferring money direct to our account, via online or wire transfer, add $40 per hundred dollars or part thereof and follow the instructions below.
Other payment methods are more costly but include those listed below:
For all Australian Cheques (drawable on Australian banks only and in Australian currency) add $10 (per $100 or part thereof) to the total price and post to the address on the form below.
For all Australian Postal Money Orders in Australian currency add $10 (per $100 or part thereof) to the total price and post to the address on the form below.
For international cheques and money orders, written either in foreign currency or drawable on non-Australian bank branches, add $40 per $100 or part thereof to payment and use the form below.
<![if !supportEmptyParas]> <![endif]>
ORDERING FORMS - CLICK ON PREFERRED METHOD FOR ORDER FORM AND/OR DETAILS
Australian Postal Money Orders
Non-Australian currency or Non-Australian bank cheque
-----------------------------------------------------------------------------------------------------------------------------------------------
Return to the Australasian Journal of Herpetology – list of published issues
Return to the Australasian Journal of Herpetology Front Page
<![if !supportEmptyParas]> <![endif]>
<![if !supportEmptyParas]> <![endif]>
<![if !supportEmptyParas]> <![endif]>
<![if !supportEmptyParas]> <![endif]>