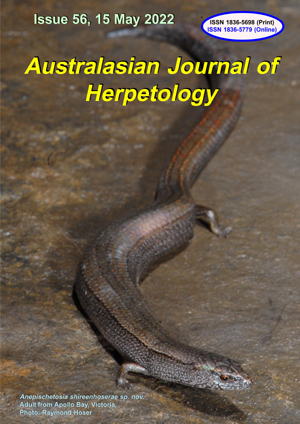 Australasian Journal of Herpetology ®
Issue 56, published 15 May 2022
Hiding in plain sight. A previously unrecognized biogeographical barrier in Australia formed by an event of biblical proportions. Five new species of skink lizard from south-west Victoria, three more closely related species from New South Wales and another from South Australia.
... Raymond T. Hoser, pp. 3-21.
A revision of the taxonomy of the Australian skinks in the genus Acritoscincus Wells and Wellington, 1985 (AKA Bassiana Hutchinson et al. 1990), resulting in the formal division into three subgenera and the recognition and descriptions of new species.
... Raymond T. Hoser, pp. 22-43.
A new species of Notopseudonaja Wells, 2002 (Squamata: Serpentes: Elapidae).
... Raymond T. Hoser, pp. 44-47.
New species of freshwater Crocodile from Northern Australia.
... Raymond T. Hoser, pp. 48-50.
Daraninanura brevipalmata daranini subsp. nov. and Daraninanura brevipalmata andypadgetti subsp. nov., two new frogs from Eastern Australia.
... Raymond T. Hoser, pp. 51-54.
Incubation and hatching of juvenile Marbled Gecko Christinus marmoratus (Gray, 1845).
... Raymond T. Hoser, pp. 55-56.
African viper taxonomy revisited. The classification of Hoser (2013) stands the tests of new technology and time; with a new subgenus and a new species from Southern Africa formally named (Serpentes: Viperidae).
... Raymond T. Hoser, pp. 57-63.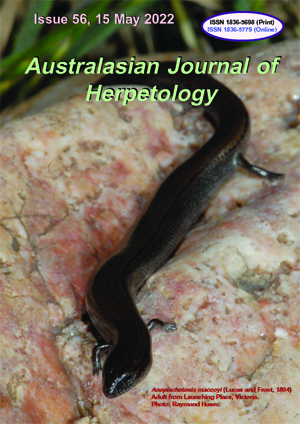 All of AJH Issue 56, including covers in one big pdf file (64 pages).
All of the newly discovered and formally named genera and species in AJH Issue 56.
Full Zoobank listing of all species, genera, family and taxonomic works of the Snakeman Raymond Hoser as of 16 May 2022 (1,923 entities formally named, more than 255 scientific papers) (46 pages).
ICZN Case 3601 ... ICZN Ruled on 30 April 2021 that all published issues of Australasian Journal of Herpetology ® is validly published according to the International Code of Zoological Nomenclature and also that all new names within are valid and have priority over later names.