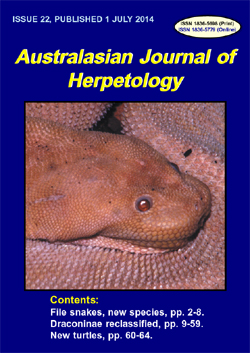 Australasian Journal of Herpetology
Issue 22, published 1 July 2014
<![if !supportLineBreakNewLine]>
<![endif]>
To download the individual paper or the journal in full, click on the relevant linked text below:
A break up of the genus Acrochordus Hornstedt, 1787, into two tribes, three genera and the description of two new species (Serpentes: Acrochordidae).
... Raymond T. Hoser, pp. 2-8.
A logical new taxonomy for the Asian subfamily Draconinae based on obvious phylogenetic relationships and morphology of species (Squamata: Sauria: Agamidae: Draconinae).
... Raymond T. Hoser, pp. 9-59.
A review of the turtle genus Pelochelys Gray, 1864 (Trionychidae) including the division into two subgenera and the formal descriptions of two new species.
... Raymond T. Hoser, pp. 37-40.
Full Journal (including covers).