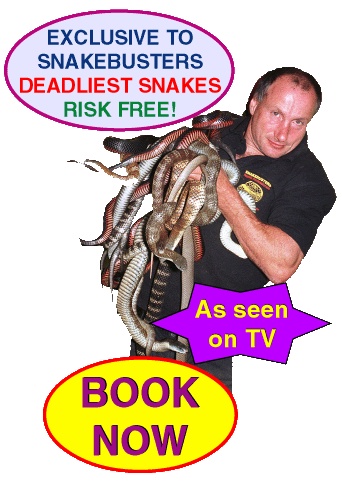 Trademark infringement internet, trademark breaches online, web breach of IP in Australia, websites closed down
Media release - Wed 24 May 2011
For immediate publication.
Trademark bootlegger loses over 800 webpages in one hit!
This is an important story in terms of Australian business, the laws of trademarks and methods of dealing with trademark imposters in the age of internet.
Today "Youtube" deleted over 800 uploaded videos and webpages uploaded by a relatively inexperienced snake handler from Queensland named Tony Harrison.
Other webpages on other servers uploaded by Harrison or people working on his behalf have also been removed.  More page removals and alterations are anticipated
This is the latest step resulting from his repeated bootlegging of our registered trademarks, "snakeman" and "snake man".
About two years ago, he started to market himself as "the snakeman" on his website "goldcoastsnakecatcher.com.au".
Emails were sent to him to cease and desist and he ignored them.  After being phoned he agreed to remove the words "snakeman" and "snake man". 
To this end, he changed the site's heading to read "snake catcher man", meaning both words remained on the site.
It was expected that the site would drop off "snake man" searches on internet search engines, but this didn't transpire.
Harrison later erected a second website "goldcoastsnakeshows.com.au" to promote his reptile business where he again marketed himself as the "snake man".
Further "cease and desist" letters were sent and ignored, although he did receive them.
Things came to a head in the last week, when the following series of events occurred.
Firstly it was seen that his first webpage was not dropping from the top of google position for "snake man" searches in spite of our own "snake man" webpages being heavily optimised for search engines.  As a result it was decided that we had to investigate further, because his positioning was meaning he was either taking our customers or diverting them elswhere.
Using a newly discovered method of finding so-called "backlinks" it was found that his "snake man" ranking on his webpage by google was supported by over 800 backlinks to the same webpage all using the word "snakeman" to drive his webpage to the top of the google searches.
Harrison's backlinks were posted globally, including on foreign language sites in places as diverse as Saudi Arabia, Japan and Spain.  More alarmingly, one of the backlinks had been posted just hours (less than a day) before we commenced looking for the backlinks, indicating that his activity bootlegging the "snakeman" trademarks had not been stopped.
Further investigation yielded a raft of other cases of him bootlegging the trademarks and trading off our good name.
Noting Harrison had received numerous cease and desist letters over a year prior and had undertaken not to bootleg the "snakeman" and "snake man" trademarks, we had no choice but to take direct action.
Snakebusters didn't want to go to the Federal Court with a writ. Notwithstanding three recent payouts from three other IP bootleggers as a result of Federal Court writs issued, the preference is to solve matters without going to court. Therefore in the first instance we went to the website owners and sought removal of the offending backlinks.  So far all have complied with the requests and the webpages have been either deleted or have had the offending text and backlinks removed. Youtube alone killed over 800 webpages carrying illegal backlinks to Harrison's webpage using the trademarked words "snakeman", all on the youtube channel created by Harrison under the name "ssnakeman069".
This happened today (24 March 2011).
The case law is firm in terms of internet trademark infringement and internet web page design (see for example the cases of Kennards Hire versus Caruso, ACCC v Trading Post, Mantra Group Pty Ltd v. Tailly Pty Ltd, Edina Realty, Inc. v. TheMLSonline.com, Mir Internet Marketing (SEO Logic), Inc. v. Aquo Interactive, Mir Internet Marketing, Inc. v. Startlogic, Inc and Mir Internet Marketing, Inc. v. Value IT Solutions). Thus the webite owners have had to remove the offending material, either voluntarily (as has happened), or if need be, by court instruction.
Also this week, another serial trademark bootlegger, Josh Cox (calling himself "Reptile Encounters") has bootlegged several of our trademarks, including "hands on reptiles", "snake man" and "snakebusters" to purchase "google" adverts to make his site appear above ours in Google search results for these exact trademark words.
He was sent a "cease and desist" letter and if he continues with the practice, he will also get a Federal Court writ.
The message is simple,
Australian consumers deserve to get what they are looking for.
If a person does a google search for the "snake man", "snake busters" or "Australia's best reptiles", "hands-on reptiles" or wants to "hold the animals" at a wildlife display, then this is what they should get!
They do not want to take risks with inexperienced imitators!
Further details:
http://www.snakebusters.com.au
Legal Statement for the websites is at:
http://www.smuggled.com/Kotabi2.htm
<![if !supportEmptyParas]> <![endif]>
Media release - January 2010 - Snakebusters imposter in Qld - busted!
<![if !supportEmptyParas]> <![endif]>
Return to the 2011 media release archive
<![if !supportEmptyParas]> <![endif]>