AN AGGREGATION OF EASTERN BROWN SNAKES
(PSEUDONAJA TEXTILIS).



BY RAYMOND T. HOSER 1997 Address:- 41 Village Avenue, Doncaster, Victoria, 3108, Australia. FAX: +61 3 9857- 4664
This paper first appeared in HERPETOFAUNA IN 1991, What follows is a text only version of the same article (no italics) and without the photos and other material that may have appeared in the original magazine. Please download the entire article if desired, however if the article is later referred to, please cite Herpetofauna as the original published source. Publication details are that it was published in Volume 21, number 2, page 38.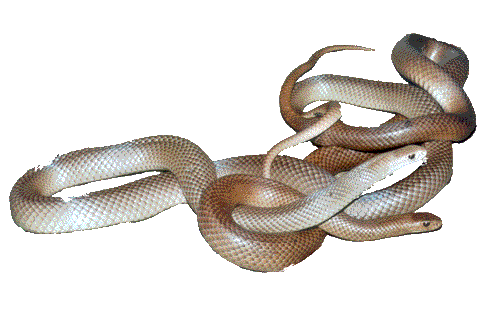 Aggregations in the wild have been documented for a number of species of Australian snake. A number of cases and earlier literature references are documented by Hoser (1980). Other documented cases of aggregation in Australian snakes include:
Vandemark (1989), Diamond Python (Morelia spilota)
Worrell (1970), Arafura File Snake (Acrochordus arafurae)
Fyfe and Booth (1984), Little Whip Snake (Unechis flagellum)
Specific cases of 'pairing behaviour' in wild specimens of 12 species of Australian snake are descibed by Hoser (1990), who also provides a (then) up to date bibliography of documented aggregation cases in Australian snakes.
Described here is a previously unrecorded aggregation of Eastern Brown Snakes (Pseudonaja textilis) in southern Victoria.
During the last week of July 1991, (mid Winter) Mr Reeve of Melton was working during the day at Melton Airport about 40 km west of Melbourne city (GPO). The weather at the time was dry, windy and overcast. He was moving dirt to dig a trench as a water channel along the fence line. The area in question was a grassy paddock with recently cut grass and a few scattered trees. The site in question was adjacent to a water channel. A backhoe was being used at the time.
When digging up dirt beneath long dead grass a 'nest' of 6 adult (between 1.2 and 2 metres) Eastern Brown Snakes (Pseudonaja textilis) were disturbed. All were described as being fairly torpid and as resting in a hollowed out area in a cluster. No passage to the surface was noticed.
The six snakes were all killed when discovered. Eastern Brown Snakes (Pseudonaja textilis) are common in the area.
REFERENCES CITED
Fyfe, G. and Booth, R (1984), Some notes on the habits of the Little Whip Snake, Unechis flagellum, Herpetofauna 6 (2), pp. 16-21.
Hoser, R.T. (1980): Further records of aggregations of various species of Australian Snake, Herpetofauna, 12 (1), pp. 16-22.
Hoser, R.T. (1990), Pairing behaviour in Australian Snakes, Herptile 15 (3), pp. 84-93.
Vandemark, J. (1989), Communal mating of Diamond Pythons, ACT HerpetologicalAssociation Newsletter, March, pp. 10- 12.
Worrell, E. (1970), Reptiles of Australia, Angus and Robertson, Sydney, Australia. 169 pp.
Non-urgent email inquiries via the Snakebusters bookings page at:
http://www.snakebusters.com.au/sbsboo1.htm

Urgent inquiries phone:
Melbourne, Victoria, Australia:
(03) 9812 3322 or 0412 777 211
Snakebusters are rated the best reptile shows in Australia, for: