NOTE ON AN UNSUITABLE FOOD ITEM TAKEN BY A DEATH ADDER. (ACANTHOPHIS ANTARCTICUS) (SHAW)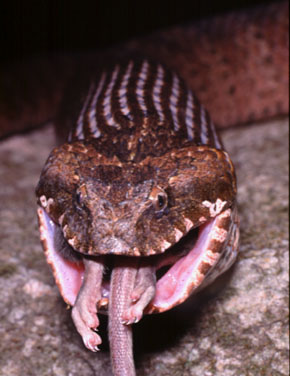 Originally published in Herpetofauna 13(1) 1981, Pages 30-31

BY RAYMOND T. HOSER
1996 Address:-
41 Village Avenue,
Doncaster, Victoria, 3108,
Australia.
FAX: +61 3 9857- 4664
This paper first appeared in HERPETOFAUNA in 1981, What follows is a text only version of the same article (no italics) and without the photos and other material that may have appeared in the original magazine. Please download the entire article if desired, however if the article is later referred to, please cite Herpetofauna as the original published source. Publication details are that it was published in Volume 13, number 1, pages 30-31.
On the 29th November 1980 at 12.30 p.m. a female Death Adder Acanthophis antarcticus was caught in bushland adjacent to St. Ives N.S.W. Latitude 33( 44', Longitude 151( 12' . The sv length was 74.5 cm, total length 86.5 cm. The weather was humid and sunny and the air temperature was approximately 24(C. The snake was stretched out and moving under a sandstone overhang close to a large creek when caught. When the author received this snake at 2.00 p.m. the same day, a stick like object was found protruding from the snake's mouth, which proved to be the tail of an Eastern Water Dragon Physignathus lesueuri. The snake had eaten the 80 cm (total length) dragon almost immediately prior to capture as no digestion had commenced.
During the next few days digestion commenced but on the 2nd December the health of this snake deteriorated and it died the same day. At death it rolled onto its back and convulsed several times. The snake attempted regurgitation of the Eastern Water Dragon unsuccessfully, on several occasions prior to it's death.
The health of this snake seemed perfect, excluding a few ticks on it's skin and it was concluded that the cause of death was the excessive meal. Upon post mortem, it seems that the spines on the lizards ruptured part of the digestive tract.
With reference to Stopford's (1980) note about the unusual food intake of a Diamond Python it appears that excessive or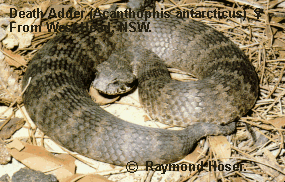 unnatural meals by snakes in the wild may not be uncommon. From my observations with snakes in captivity, it seems that once a snake commences feeding on apparently suitable food, it is often reluctant to regurgitate even if the food proves to be unsuitable.
Reference:
Stopford, J., (1980): Unusual Food Intake of a Diamond Python. Herpetofauna, 12 (l): 35.
Death Adders (Genus Acanthophis): An overview, including descriptions of FIVE new species and ONE subspecies An 11,000 word paper in Monitor - Journal of the Victorian Herpetological Society published in April 1998.
Raymond Hoser has been an active herpetologist for about 30 years and published over 150 papers in journals worldwide and nine books.
Non-urgent email inquiries via the Snakebusters bookings page at:
http://www.snakebusters.com.au/sbsboo1.htm

Urgent inquiries phone:
Melbourne, Victoria, Australia:
(03) 9812 3322 or 0412 777 211
Snakebusters are rated the best reptile parties, displays and shows in Australia, for: