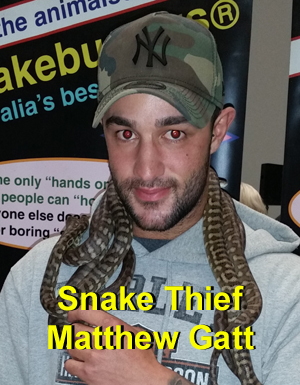 Snake Thief Matthew Gatt fined $8K at Melbourne Magistrates Court
(21 March 2019).
On 9 December 2018 Matthew Christopher Gatt of 12 Domain Drive, Hillside, Victoria, stole an extremely rare mutant Carpet Python valued at $30K from a wildlife display at the Melbourne Convention Centre.
Magistrate Denise Livingstone described Gatt's carefully planned theft as an "outrageous offence" and when imposing an $8,000.00 fine with recorded conviction said the penalty has "to deter you and others" from trying such despicable acts again.
The owner of the reptiles, Snakeman Raymond Hoser reported the theft to police and to their credit police recovered the stolen snake from Gatt's home on 31 December, some 22 days after it was first stolen.
Gatt fronted the Melbourne Magistrates Court charged with theft of a snake and holding protected wildlife without a license.
Snakeman Raymond Hoser says that the theft was carefully planned and executed due to the heavy security presence at the time. Gatt managed to breach a number of layers of security and steal the snake, but was both photographed and caught by CCTV in the act of committing the crime, enabling Hoser to tell police the identity of the thief.
The returned snake was found to be carrying parasitic snake mites, which in the untreated state can lead to death of the snake. Failure by Gatt to deal with these was also an act of animal abuse and cruelty, although he did not face such charges in the court. Had Gatt also been charged with animal cruelty, it is likely he'd have been sent to jail.
The theft of the snake is more serious than just the theft of an animal in that the cohort of people working to undermine Hoser's wildlife display business allege that by having a snake stolen, Hoser is breaching his license conditions by putting animals at risk of theft. This is grounds to have the successful 30 year old education business shut down. In other words the victim is blamed and not the thief. The entire critcally important conservation work of Snakeman Raymond Hoser and his dedicated team of staff and collaborators globally were put at risk by Gatt's actions.
This ridiculous situation is what probably fuelled Gatt's desire to attempt to get away with stealing the snake and why Hoser and the police asked the court to hand down a conviction and penalty of sufficient severity to deter other would-be snake thieves.
Hoser notes that Australian wildlife conservation is put at risk and species are threatened with extinction by the financially motivated efforts of the thieves and those who effectively use so-called "cleanskin mules" to do the actual acts of theft.
The wider Gatt family (see note below) fell foul of Hoser's business in 2016, when newly licensed reptile handler Stewart Gatt of 278 Ballan Road, Wyndhamvale started to illegally use Hoser's registered trademarks (including "snake man" and "snake catcher") to unlawfully divert Hoser's established clients to his new enterprise.
Hoser sent him a formal cease and desist letter in 2016, which he chose to ignore.

Gatt is also subject of a number of court orders preventing him from using Hoser's registered trademarks, but he ignores these as well.
This became a trigger for Gatt and others in his cohort to make death threats to Hoser, post numerous fake one star hate reviews online for Hoser's businesses to divert clients from them and generally defaming and undermining Hoser's wildlife conservation efforts.
On 10 Feb 2019 and without any provocation by Hoser, Gatt's defacto wife Krystal Kniese made a telephone death threat to Hoser from a blocked number. See the audio file linked here:
http://www.smuggled.com/Gatt-Girlfriend-11-2-19-11-43-17_AM.m4a
Hoser was able to later identify the caller via videos Stewart Gatt had posted online, featuring her in the recordings and matching the voice.
Hoser has lodged a formal complaint to police about Kniese and Gatt and expects one or both to be formally charged with making threats to kill over the phone.
The preceding underlines the sordid underworld like goings on in the wildlife business space.
While Hoser and his team have worked tirelessly for decades in the wildlife conservation arena, the wildlife space has in recent times been invaded by a lawless cohort of thieves and thugs who see snakes and other wildlife as means to make large sums of money. Animal abuse and cruelty are also their tools in trade.
In bringing Matthew Gatt to court for the theft of the mutant Carpet Python, Snakeman Raymond Hoser acknowledges the excellent work of the Victoria Police members who successfully retrieved the stolen snake and in time to prevent an avoidable death, as well as the cooperation of DELWP (wildlife officers), who supplied the police with further information in relation to the (alleged) wildlife offences by Matthew Gatt.
Hoser says, "Courts in the past have found my published public criticisms of both police actions and DELWP actions to be wholly justified, but in this case, staff at both departments have discharged their duties professionally and without fault at all stages of this prosecution process and it would be remiss of me not to acknowledge this fact, because as a rule these people often have difficult duties to discharge and errors are not altogeather rare."
Recent busts for wildlife smuggling by DELWP in Victoria are almost certainly connected with the same cohort and include another man from Hoppers Crossing, recently busted by DELWP for (allegedly) attempting to smuggle a number of threatened species of reptile out of Australia.
Raymond Hoser is the world's foremost authority on reptiles and snakes in particular as well as a wildlife conservation icon. He has authored nine major books, contributed to dozens of others, authored hundreds of peer reviewed scientific papers and discovered and named more species of snake and more species of reptile than any other person born in the last 150 years. This includes over 1,000 species, genera and family.
He is also widely known for inventing educational reptile parties, where children and adults get to hold the animals and learn about reptiles and why they need to be conserved as part of the wider ecosystem.
These have since been copied worldwide.
Photo details: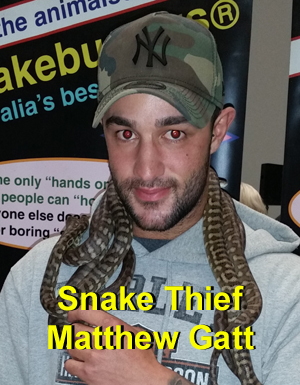 Snake Thief Matthew Gatt, photographed with three mutant Carpet Pythons including the one stolen on 9 December 2018.
This photo or the high res version (downloaded by clicking on the lo. res one) can be reproduced provided a backlink is provided to http://www.snakebusters.com.au and / or http://www.reptileparty.com.au
Further information from (Australia): 0412-777-211
Or by visiting
http://www.snakeman.com.au
Add on note: As of 7.47 PM on 21 March 2019, Stewart Gatt (see above) on his Facebook page claims no connection with the actions of Matthew Gatt or to have instigated the theft in any way. He has not however publicly condemned Matthew Gatt's unlawful actions and in fact via at least one Facebook account he apparently controls (Peter McCallister), he has alleged to a global audience the case was a "set up" by Raymond Hoser to discredit Stewart Gatt.
Even accepting this claim of no relevant connection between the two Mr. Gatt's on face value (which for the moment we shall do so), this does not in any way remove Stewart Gatt's direct culpability for actions he has done preceding and postdating the theft of the snake by Matthew Gatt on 9 Dec 2018, including,
1/ Illegal usage of Hoser registered trademarks, which he continues to do as of 21 March 2019,
2/ Making threats to kill by telephone and/or SMS and/or getting others to do so and
3/ Numerous false and defamatory claims about Hoser on Facebook designed to incite hatered of and criminal attacks on Hoser, all three of which are legally actionable, including as of 21 March 2019.
Recorded anonymous death threats to kill by telephone and SMS and other illegal actions by Stewart Gatt and his partner are of significant public interest and in the absence of any binding court orders will remain online. It is anticipated that Gatt and/or his partner will face criminal charges over these phone threats as well.
By the way the claim that Matthew Gatt's theft action was a "set-up" is totally false and fabricated.
Non-urgent email inquiries via:
The Snakebusters bookings page.

Urgent inquiries phone:
Melbourne, Victoria, Australia:
(03) 9812 3322 or 0412 777 211