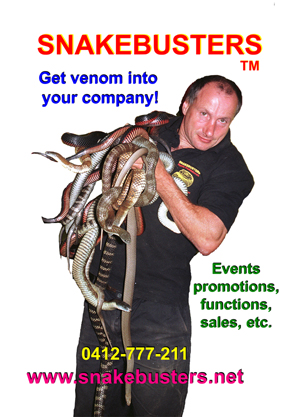 The Snakebuster and variants are trademarks.

The Snakebuster trademarks are registered and protected in all relevant categories, classifications, variants and jurisdictions.
Unauthorised use, dilution, etc, is prohibited.
See our legal statement at:
www.smuggled.com/kotabi2.htm
For the Snakebusters website click here
Raymond Hoser is The Snakebuster
and his websites can be accessed by clicking here
The snakebuster enquiries to Raymond Hoser via
the incursions bookings page

Copyright The Snakebuster. Snake busters Raymond Hoser, the snake buster.