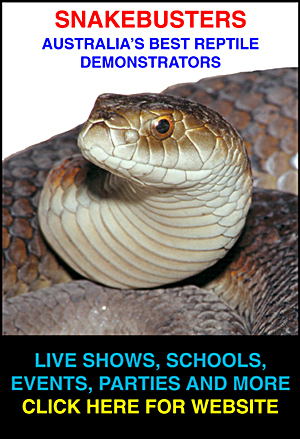 WARNINGS – LIVE REPTILE SHOWS – NEW AND UNSCRUPULOUS OPERATORS:
WARNING ISSUED IN NOV 2006
In the recent period (2003-6), several persons new to the reptile game have obtained licences to "demonstrate" or exhibit reptiles and conducted a series of unethical and damaging activities.
In the main they are touting for business at Schools, shopping malls and elsewhere which in itself is perfectly legitimate, even if in many ways they merely seek to copy or emulate snakebusters. 
What isn't legitimate are the false and damaging claims these rogues make against established operators including Snakebusters in order to try to snare existing business.
Also disturbing are the false claims being peddled to new potential customers, many of whom have already been burnt badly by these rogue operators.
The most common false claims made by the rogue operators are along the lines of alleged reptile experience by themselves.
One operator (Snakehandler, Victoria,), started by Simon Watharow, claimed in 2005 to have been "established" in the reptile demonstrating business for "ten years" just one year after gaining a licence to do such shows.  Prior to this sudden gaining of ten years experience, Watharow freely admitted to being a novice reptile person.
A West Australian by the name of Brian Bush unlawfully bootlegged and used our Snakebusters trademark, later applying for another trademark which in the end wasn't registered. 
Others from West Australia, also associated with Bush were sued for misuse of the snakebusters name and had to make a sizeable (confidential at their request) payout to us.
Companies run by Mark Richmond (NSW) and John Lucas (Qld), both first established in mid 2006, made similar false, misleading or unsubstantiated claims about their alleged experience, claming many years in the job of reptile demonstrations or being deeply involved with reptiles for periods exceeding that for which evidence was available.
Another NSW company, known as SOS Aussies (Reptiles), under the umbrella of "Australian Reptile Productions Pty Ltd" makes a series of bold claims on their website about many things, including experience.
They go so far as to have on a slick new website a series of apparently authentic testimonials from school teachers and the like about them allegedly being the "best" in the business. The testimonials are dated and spanning back to 1993, clearly aiming at teachers seeking an established reputable firm.
However a check of the ASIC (Australian government) online database reveals that the company was first registered in 2003!  This leads to the obvious question as to where the alleged testimonials prior to 2003 actually come from?
SOS and other traveling reptile shows make "raids" on one or more non-home states improperly pressuring schools to book them on the basis that they are the best in the land.
As a trend, the raiders are inferior to the outfits that stay within their state, the simple reason being that the stay at homes get enough repeat local business so as not to need to travel across the country for a single gig.
At Stavcon 2006, several recent victims of these operators issued a warning to other teachers against two particular non-Victorian outfits that had "burnt" them.
One outfit claiming "deadly" reptiles simply had a few harmless ones with the deadly ones confined to jars of formulin.  The other outfit's "hands on" was just that, touch the lizard only … "hands on lizard".
Yes, another common "lie" is the degree of "hands on" by various operators.  While Snakebusters is consistently measured as the number 1 on this level by independent observers, there is strong variation between operators and we say in terms of other operators "buyer beware".  Measurable outcomes can be deduced by multiplying time spent on "hands on" multiplied by the number of people at the presentation and then the number of reptiles actually out at a time. 
Fortunately, emulating the Snakebusters "hands on" isn't hard and most live reptile presenters have in recent years upped the number of live reptiles they hand out to their audiences to hold.
Snakebusters are happy to lead they way in terms of improving standards of reptile presentations.
The next most common false claim is the sales pitch of the alleged number of people who have seen a given company's live reptile presentations.  We added the claims of all better known Australian live reptile presenters as best we could and came up with the claimed figure of 45/50 million people a year (2005/6 estimates)!  Even allowing for those who see more than one live reptile show a year, it is evident that a lot who claim to be the "biggest" are exaggerating quite a lot.
SOS reptiles, a new and as of 2006 a minor player in the live reptile shows presentations business, hailing from NSW, claimed once on their site that a million people had seen their shows even before they fully had set up their website!
That was first registered on 25-Aug-2005, (we found that on the WHOIS database), but that didn't stop the owner claiming a fifteen year history for the company as of 2006!  Elsewhere on the site in yet another sales pitch the million number of "customers" was doubled to two million!  Maybe SOSAussies see a million people in the time it takes to type a webpage!
By the way, the reasons that SOSAussies didn't have a website before 2005, and the reason that they weren't registered as a company before 2003 are easy to guess.
A key player with SOS Aussies is John Weigel, a man given to deliberately making false and misleading claims on numerous matters over many years.  As a result of several matters, including his role in facilitating the spread of one or more viruses through Australian reptile collections, due to his failure to notify people of potentially infected reptiles traded from his collection, his reputation in the Australian reptile fraternity is mud.
Another claim is the number of reptiles and kinds the operator has.  Common claims of given species fail to materialize when the show actually turns up.  Slick websites often have scanned images from books and the like of species that the operators simply don't have.
Yes the lame excuses of "oh it died yesterday", "we couldn't get a permit to bring it/them into your state" and the like are all too common.
For the record, lots of people have lots more reptiles than snakebusters at their home facilities.  However snakebusters consistently take lots more to events than other outfits and this is the all important number.  We also have access to the best collections in Australia for special requests.
As the Australian market leader in live and traveling reptile presentations Snakebusters are regarded by some of the new and unscrupulous operators as the target to get in terms of stealing existing and new business.
Claims made against us are varied and usually in the form of baseless unsubstantiated complaints to event bosses, and also as anonymous posts on the internet chat forums and the like.
Ironically, most of the new and unscrupulous operators had approached Snakebusters and people working with us to surgically devenomize snakes (as we use in our presentations).
The venomoid snakes set snakebusters far above all other live reptile show outfits and this is generally known.  It has also proved harder for other operators to attempt to emulate than our other obvious advantage in terms of most "hands on".
We have declined all requests to venomoid other people's snakes, an upshot being that several of these same people have since campaigned against Snakebusters and "venomoid" snakes.
The result is numerous anonymous posts on the internet on these matters, false claims and the like.
The false claims include:
<![if !supportLists]>1. <![endif]>Cruelty in the operation or after … the reality is the reverse is true.  This reality is measurable and been documented numerous times.
<![if !supportLists]>2. <![endif]>Alleged mass mortality of operated on snakes … another lie.
<![if !supportLists]>3. <![endif]>That venomoid snakes die due to an inability to digest food in that they need venom for this.  … The statement is a lie.  Several years post operation, the snakes continue to eat, digest food and yes, breed.
<![if !supportLists]>4. <![endif]>Venomoid snakes regenerate venom and can hence be dangerous … another lie … over 30 venomoid snakes and none have regenerated a drop of venom.
<![if !supportLists]>5. <![endif]>Venomoid bites are dangerous due to bacterial infections … forget it!  Snakes usually have mouths full of gram negative bacteria which generally are a non-issue for humans.  It's the gram positive ones that tend to harm warm blooded humans.
<![if !supportLists]>6. <![endif]>The venomoid operations are done in dirty conditions in the Hoser garage … Another lie … er, you see the Hoser garage is full of junk and you can't even walk in there!  By the way, contrary to other false claims, all the snakebusters reptiles, including the venomoids are regularly scrutinized by a qualified practicing vet with over 20 years experience in the job.
<![if !supportLists]>7. <![endif]>The Hoser snakes have their jaws superglued shut so that they can't bite during shows. … Mmmm, the amazing thing as that someone had the gall to make such an audacious claim.
Yes, all these claims have been made and are easily found on various internet sites and forums and the scandal is that most have been maliciously made by people who have themselves sought venomoid snakes.
Finally, yes, there are many good traveling reptile shows besides Snakebusters and operating across all parts of Australia and these people don't make false and misleading claims about themselves or what their alleged experience is or isn't.  Examples include: Australian Nature Live (Fred Rossignolli) in Victoria, Australian Reptile Enterprises (Brad Macdonald), in NSW, and Nature To You (Scott Eipper), in Queensland.
None of these outfits have claimed a million customers in their first days of business, more years of reptile experience than they have and that can be verified and so on.
However the outfits and persons just named are long recognized Australian reptile people of integrity, two of the three even having had reptile taxa named after them.
They are also upfront about their live presentations and what they will actually do.
Return to Snakebusters Frequently Asked Questions.
Return to Snakebusters Site entry portal.