So you've booked Snakebusters, Australia's best reptiles®
Now is the time to get the most from your decision.
Below is a summary of how to get the best results.
Tapping into the unrivalled name, expertise and intellectual property of the Snakebusters brand will deliver your event the largest crowds possible.
Trademarked words and phrases Snakebusters have exclusive ownership and use of (within our industry), that you can use to promote your event, include, "hands on reptiles", "Hold the animals", "handle the animals", Australia's BEST reptiles", "Snakeman", "Snakebusters" and others. Because no one else can legally use those words, phrases or anything else similar to promote inferior reptile or wildlife displays, your use of the trademark words will deliver your event the largest crowds possible.
Raymond Hoser, the director of Snakebusters is also Australia's one and only Snakeman.  No one else is allowed to use the trademark, so you can freely tout the fact that you have the company owned by "THE SNAKE MAN – RAYMOND HOSER" at your event.
People will recognize your major drawcard immediately.
Because Snakebusters are the recognized leaders in terms of reptile demonstrations and most other things reptile and wildlife, with this recognition also being general in the wider community, your promotion of Snakebusters at your event will maximize likely turn out.
Put another way, the names "Raymond Hoser", "Snakeman" and "Snakebusters" will always outdraw any other reptile or wildlife demonstrating company at a rival event.
Use these names and our images in your advertising to get full advantage of your booking.
People also know that Snakebusters are the only people with the full suite of deadly reptiles and the only wildlife display company in Australia who do "hands on reptiles", meaning we let people hold snakes, lizards, crocs and the like, whereas for all other outfits it's only a boring "show and tell"!
Advertise these facts as well!
As a marketing person, you should be mindful of a few issues that may emerge, including things like trademarks, copyright and other forms of intellectual property.
Over more than three decades, Raymond Hoser and Snakebusters have built a reputation and stable of intellectual property that no other company can match.
This includes the (registered and protected) trademarked terms, "Snakeman", "Snakebuster", "hands on reptiles", "hold the animals", "Australia's best reptiles" and all likely variants.
We own them all!
And in all relevant categories and jurisdictions.
Use these words in your promotions to get maximum benefit.
However, it is worth noting that newer entrants into the reptile demonstrating business may use other names, trademarks and the like.  As an ethical business, Snakebusters recognize these rights and would not want to infringe on other people's lawful interests.
In other words, it's generally best not to stray from words and terms not seen in our advertising blurbs and the like. 
For example the Irwin family business now own trademarks "Wildlife Action", "Wildlife Warriors" and "Crocodile Hunter", so those words should never be used when marketing us.
If unaware of likely infringements, it is best to consult us and we'll ensure that no one's toes are trodden on and/or your advertising material inadvertently promotes another company's name, logos, or similar.
An error in terms of trademark or copyright infringement may be costly.
While we've never been sued over such things, we have ourselves successfully taken action against persons and companies recklessly infringing our trademarks a number of times.  We don't want the reverse to happen to either ourselves or our clients.
In terms of photos, these are particularly important for pre-event marketing and to that end Snakebusters have made available a vast array of top quality images to choose from.
Most of our customers will get the photos they want from the many top-quality hi res images placed on our website for immediate download, or our supplied CD's and in the event these aren't sufficient, it is usually best to use what we have and can supply on request.
There are no fees or charges for these and we have found that these materials are superior to those our clients source from elsewhere. 
More importantly, as all the photos are by Raymond Hoser himself, there are never copyright or permission issues to deal with, and/or identification issues in terms of the reptiles depicted.  The latter is important as there are at times legal (government imposed) restrictions on what species may or may not be depicted.
You may not have known this!
Our photos also accurately depict our superior reptile handling methods and skills, as well as the "hands on" by the public at our events.
Experience has shown that use of our pictures increases initial turn out at events, as opposed to when customers source images from elsewhere (e.g. so-called "free images") to promote "Snakebusters".
While the following is by no means mandatory, shopping malls, major events and similar are also advised to show us copies of proposed advertising material beforehand, so that we can advise against major errors in terms of images used, trademark issues and the like.
Experience in the context of malls and similar has shown that good advertising images (usually ours) and words can increase turnout by more than 300 per cent on the opening day of our week at a venue, based on head-counts at "shows" (crowd counted at peak number).
If requested, we can even supply artwork for signage and adverts for malls and major events and usually at NO CHARGE!
Also if you see another mall, show, event or TV program advertising a "snakeman", "snakebuster", "hands on reptile show", "best reptiles", "hold the animals" or anything deceptively similar to our registered trademarks that's not us, let us know and we'll stop them doing so immediately!
Phone (03) 9812 3322 or
0412 777 211 for any further information.
E-mail us via the address:
on our bookings page
Snakebusters website "front page" entry.


Snakebusters website gateway links to all other Snakebusters webpages.


Snakebusters booking and contact page.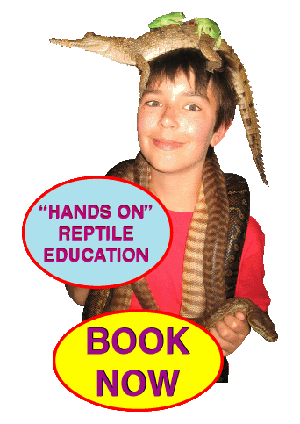 Non-urgent email inquiries via:
Our bookings page
Bookings and urgent inquiries please phone:
(Melbourne, Victoria, Australia):
(03) 9812 3322
or
0412 777 211