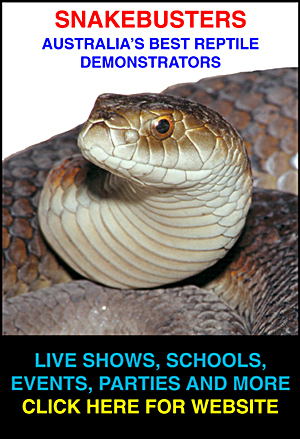 How the news media got the Deutscher snakebite story
Raymond Hoser
There have been numerous misreports about this sad event and amazingly my name has been repeatedly dragged through mud over it.
Several webpages wrongly identified myself as the victim of the bite.
This was simply invented by persons with hidden agendas or perhaps very poor guesswork.
Other webpages wrongly attributed news media quotes to me, with these comments coming from persons obsessed with myself and who work for business rivals seeking to capture a greater share of the reptile demonstration market in Victoria.
Convicted wildlife smuggler, David Williams, also convicted and fined for cruelty to reptiles (fined $7500), predictably posted false and misleading material against us, but nothing less would have been expected.
However, one fact not known until now was my own inadvertent role in breaking the story.
At about 8 AM I received a phone call from a Melbourne radio station that had thought I was either the bite victim or would know who it was.
The man on the phone was quoting an AAP newswire release or one generated from that allegedly said a man in Melbourne's Eastern suburbs was bitten by a Death Adder when hallucinating on drugs while at Burwood.
That I was called wasn't out of place as I am known everywhere for my decades long expertise and work with Death Adders and am also relied upon by Australian media as a reliable and accurate source of reptile information, so I was also called on the basis I may have an idea as to whom the victim was.
I was still asleep when my wife gave me the phone and perhaps wouldn't have been so forthcoming with information had I known the likely outcome of events.
In answer to the obvious question of who was the victim, I told the man that I could say with certainty that the victim was John Deutscher, because I knew he lived in Burwood, kept adders and was so brutal in his handling methods, that he had a history of bites.
However I advised the man to double check elsewhere.
The man then telephoned the hospital, asked for Deutscher by name, presumably claiming to be a friend and was in line with usual hospital practice put through to him.
This conversation was broadcast across Melbourne's radiowaves the result being all other media knew where to find this otherwise hitherto unknown snakebite victim.  Due to the hospital's proximity to the CBD, TV film crews soon descended on the site.
John Deutscher lapped up the attention, but at no time showed remorse for his reckless handling actions and the cost to taxpayers, or for that matter the likely tightening of legal restrictions for keepers the publicity he was getting may cause.
There have since been posts on a number of places including the hate site "aussiereptilekeeper" stating that Deutscher was somehow associated with me and/or my company.
These statements are totally false and I want to make it clear that Snakebusters and myself have no association with Mr. Deutscher or his shoddy practices.
There is little doubt that an attempt to associate Mr Deutscher with us is deliberate and designed to harm our company's impeccable safety record and reputation for expertise with reptiles.
For the record, Snakebusters only employ staff of the highest expertise and caliber and this week's safety breach is a timely reminder for all in terms of reptile safety.
In the last twelve months alone several so-called snake handlers from several newly licenced traveling reptile demonstrating outfits have had to be rushed to hospital as a result of snakebites from mishandling.  One man, James Bear died from a bite from his pet snake.
Snakebusters are alone in our industry in having proven expertise with reptiles spanning decades and a perfect safety record.
Snakebusters use vet certified surgically devenomized (venomoid) snakes.
We are the only company with these snakes and we are the only company in Australia who can give a watertight safety guarantee for deadly snake shows.
Under section 32 of the 2004 OH and S Act, Snakebusters are the only company allowed to bring venomous species into public.
Persons considering live reptile demonstrations for events, shows, shopping malls and similar should take this week's near fatal snakebite of a snake handler associated with a rival demonstrating business as a warning against dealing with newly licenced outfits that may put either themselves or their customers at risk.
Organizers who may have booked a non-Snakebusters presentation should also immediately rule out the use of venomous snakes on the basis of risk to both handler and customers before another serious accident or death happens. 
Today, Snakebusters director Raymond Hoser, said "It's after events like today's near fatal bites, that people appreciate the quality, expertise and reliability of Snakebusters."
Hoser also said "Both existing and new customers realize that it simply isn't worth taking risks with novices who both lack expertise with reptiles and also take risks with public safety not using snakes that are devenomized."
Further details Snakebusters: 0412 777 211
<![if !supportEmptyParas]> <![endif]>
<![if !supportEmptyParas]> <![endif]>
<![if !supportEmptyParas]> <![endif]>
Non-urgent email inquiries via the Snakebusters bookings page at:
http://www.snakebusters.com.au/sbsboo1.htm

Urgent inquiries phone:
Melbourne, Victoria, Australia:
(03) 9812 3322 or 0412 777 211