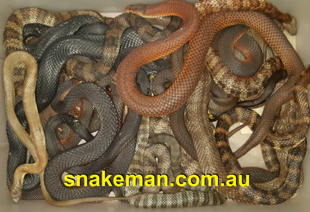 Over 100 deadly snakes born – death noodles everywhere!
Snakeman breaks records in breeding world's deadliest snakes!


14 March 2019

The idea of over 100 deadly snakes turning up at your place may not be cause for celebration, but for leading conservation icon, Snakeman Raymond Hoser, it most certainly is.
In a major win for wildlife conservation, Snakeman Raymond Hoser has had a bumper year breeding the world's deadliest snakes. Over 100 babies have been produced from the critically important captive breeding program at the world's leading reptile research facility.
Hoser, who also runs the wildlife education business, Melbourne Reptile Shows has produced baby Eastern Brown Snakes after getting a 100% hatch rate from eggs. He is the only person on the planet to have bred this species and has done so most years as far back as 2004. He also bred a large number of Copperheads, including Reds, Yellows, Blacks and combination forms as well as highly dangerous Tiger Snakes. Other recent breedings include dozens of babies from threatened species of Death Adders and some spectacular mutant Carpet Pythons.
While there is not significant demand by people for deadly snakes, they are required by wildlife displayers for educational reptile shows, for life-saving dog snake avoidance training and even venom extraction to manufacture medically important anti-venoms. Hoser has been the world leader for breeding deadly snakes. He has bred countless deadly snakes over the past five decades and if you see a deadly snake at a zoo or conservation park in Australia, chances are it was bred at his Melbourne facility.
Significantly, Hoser has never sold a single snake that he has bred. He has given them all his surplus away. He says "I am into wildlife conservation and not making money". The reptiles and conservation of species are way more important than any personal financial self-gratification.
Raymond Hoser is also the only licensed 24/7 snake catcher in Melbourne, Australia. Money he makes from the snake catching, reptile shows and related enterprises is also spent on wildlife conservation projects.
Besides building a state-of-the-art wildlife breeding facility, he has also contributed to wildlife conservation projects across Australia and elsewhere and funded publication of peer reviewed scientific journals with an emphasis on conservation matters and describing species new to science, which in itself is a critical first step in conserving any species.
Hoser has himself discovered and named hundreds of species of reptile, being a greater number than anyone else alive and by a significant margin.
He also invented the now internationally famous reptile party which is a concept of kids parties now being copied worldwide.
Photos of some of the this year's baby snakes can be found on the Facebook page of Snakebusters Australian Snakeman, including of newborn Copperheads and Tiger Snakes (AKA Death Noodles), recently hatched Brown Snakes and a Pregnant Female Death Adder sitting on the head of Snakeman Raymond Hoser.


Further information at:
http://www.snakebusters.com.au
or http://www.snakeman.com.au
or http://www.snakecatchersmelbourne.com.au
Or by phoning (Australia) 0412-777-211


Further inquiries about this story, snake catchers and wildlife conservation can be made by phoning the Snakeman Raymond Hoser on 0412-777-211.

Non-urgent email inquiries via:
The Snakebusters bookings page.

Urgent inquiries phone:
Melbourne, Victoria, Australia:
(03) 9812 3322 or 0412 777 211

Reptile Science and Reptile Education.

Australia's only licensed Snake Avoidance Training for dogs.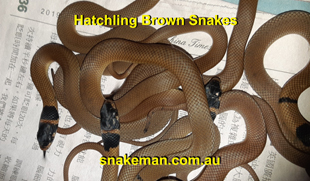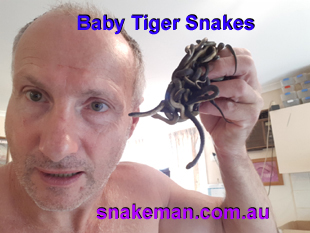 In Australia, the registered trademarks with the words "Snake Catcher" (TM No. 1436529) and "Snake Handler" (TM No. 1436530) are owned by the Snake Man Raymond Hoser. Unauthorised use of these and other relevant trademarks is strictly forbidden. See the full listing of our registered trademarks at the government trademarks offices of Australia, the USA and UK.