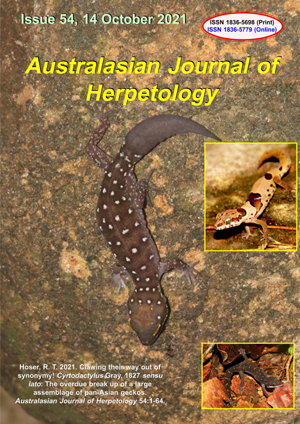 Australasian Journal of Herpetology ®
Issue 54, published 14 October 2021
There is one paper published in a single volume (64 pages). Download the whole thing as one big file (only option / link below).
Clawing their way out of synonymy! Cyrtodactylus Gray, 1827 sensu lato: The overdue break up of a large assemblage of pan-Asian geckos.
... Raymond T. Hoser, pp. 1-64.
Zoobank listing data for AJH 52/53 - turtle paper only.
Full Zoobank listing of all species, genera, family and taxonomic works of the Snakeman Raymond Hoser as of 16 May 2022 (1,923 entities formally named, more than 255 scientific papers) (46 pages).
Copyright: All rights reserved.Australasian Journal of Herpetology ®
ICZN Case 3601 ... ICZN Ruled on 30 April 2021 that all published issues of Australasian Journal of Herpetology ® is validly published according to the International Code of Zoological Nomenclature and also that all new names within are valid and have priority over later names.