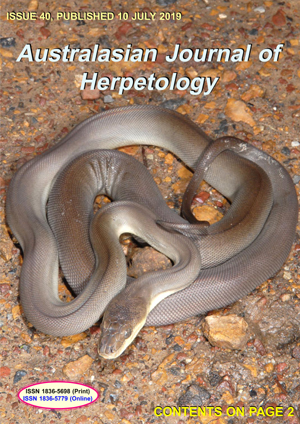 Australasian Journal of Herpetology ®
Issue 40, published 10 July 2019
To download the individual paper or the journal in full, click on the relevant linked text below:
Eight new skink genera and 45 newly named species associated with Emoia Gray, 1845 sensu lato that reflects ancient divergence and recent speciation within the assemblage (Reptilia: Squamata).
... Raymond T. Hoser, pp. 3-49.
A new species of Tree Kangaroo, Genus Dendrolagus Müller, 1840 from Tembagapura, Mimika, Irian Jaya, Indonesia..
... Raymond T. Hoser, pp. 50-55.
New subspecies of the Australian Bandy Bandy Vermicella Gray, 1841 (Serpentes: Elapidae).
... Raymond T. Hoser, pp. 56-58.
Two new subspecies of Mulga Dragon Caimanops amphiboluroides (Lucas and Frost, 1902) (Squamata: Agamidae).
... Raymond T. Hoser, pp. 59-61.
Hi-tech medicine and surgery! Super Glue as a means to fix open wounds in reptiles.
... Raymond T. Hoser, pp. 62-64.
Full Journal Issue 40 (including covers).
Full list of newly named genera, subgenera, species and subspecies in Issue 40 of AJH.
71 pages - Full list of new taxon listings in the official ICZN database, Zoobank (in Issue 40 of AJH).