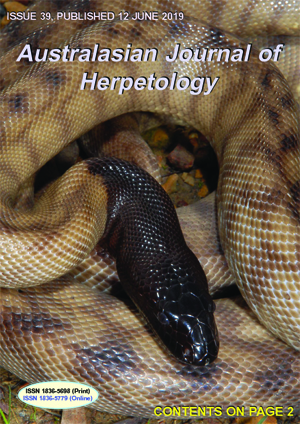 Australasian Journal of Herpetology ®
Issue 39, published 12 June 2019
To download the individual paper or the journal in full, click on the relevant linked text below:
Coming back up! The first ever documented cases of fur ball regurgitation by a Black-headed Python (Serpentes: Pythonidae: Aspidites).
... Raymond T. Hoser, pp. 3-5.
A new species of Philocryphus Fletcher, 1894 (Amphibia: Myobatrachidae) from north-east Victoria and south-east New South Wales.
... Raymond T. Hoser, pp. 6-8.
A long overdue genus-level division of the gecko genus Hemiphyllodactylus Bleeker, 1860 sensu lato.
... Raymond T. Hoser, pp. 9-19.
A new species of Chameleon Dragon Chelosania Gray, 1845 from the Northern Territory, Australia.
... Raymond T. Hoser, pp. 20-22.
11 new species, 4 new subspecies and a subgenus of Australian Dragon Lizard in the genus Tympanocryptis Peters, 1863, with a warning on the conservation status and long-term survival prospects of some newly named taxa.
... Raymond T. Hoser, pp. 23-52.
Richard Shine et al. (1987), Hinrich Kaiser et al. (2013), Jane Melville et al. (2018 and 2019): Australian Agamids and how rule breakers, liars, thieves, taxonomic vandals and law breaking copyright infringers are causing reptile species to become extinct.
... Raymond T. Hoser, pp. 53-63.
Full Journal Issue 39 (including covers).
Full list of newly named genera, subgenera, species and subspecies in Issue 39 of AJH.
54 pages - Full list of new taxon listings in the official ICZN database, Zoobank (in Issue 39 of AJH).